From the Heart of the Navajo Nation
in Window Rock, Arizona.

"Ya'at'eeh. Welcome to my creations."

In 1987, an interest to sew and design were introduced to me by a Paris designer who's specialty was in womans leather clothing (miniskirts, jackets, etc.).
From this designer, I pass on my practice and knowledge of design and fashion to you. I have been specializing in wool, or what most of you know as ~pendleton~ for the past 10 years. The requests that I have filled the most for have been pendleton blankets that are cut & sewn into the purchasers choice of outterwear.

I have continuing requests from customers like Miss Radmilla Cody - 1998 Miss Navajo Nation, using beautiful satin and velvet materials. If you are interested in my designs, please email here .
Thank you.

BUCKSKIN VEST WITH FRINGES
Front is of pendleton with a touch of buckskin with leather buttons and pockets. The back (move mouse over photo) is buckskin leather with cut fringes. Lining is of satin.
---


MEN'S SPORT JACKET
Contemporary lined sport jacket with leather collar. (Optional leather or elastic band on the wrist and belt.)
(CLICK ON PHOTOS TO ENLARGE.)
---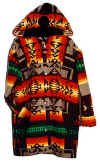 WOMEN'S HOODED JACKET
3/4" length jacket with optional silver buttons.